Arbors are Beautiful & Durable Garden Accents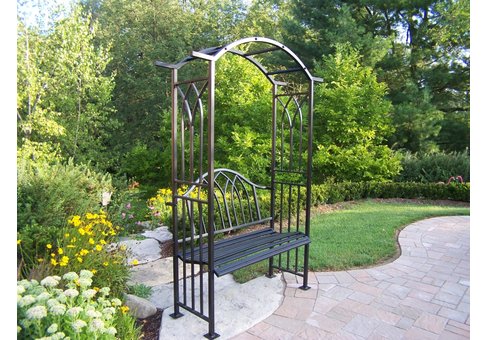 The visual appeal of the outside of your home makes a tremendous difference in how your home will be perceived. An outdoor space that is beautiful and well-maintained will create an image of beauty and attention to detail. It is also a fabulous way to expand the living space of your home. By moving your decorative attention outside, you are providing more space for your family to enjoy and welcoming guests to a relaxing, happy environment.
One of the best ways to add appeal and functionality to your outdoor space is with arbors. Arbors are structures that are generally comprised of two trellis sides covered by a top. These pieces can be created in a variety of materials including wood, plastic, and metal. They are sometimes embellished by training climbing vines to cover the sides and create a blooming archway into the rest of your outdoor space. Some of the ways that you can use arbors to enhance your garden include:
Welcome Archway
Create the sense of a "secret garden" by placing an arbor at the entryway to your lawn and training flowering vines to cover it completely. When in bloom, these vines will create the look of a living archway that will welcome guest into the enchanted garden beyond.
Relaxing Space
By adding a swing or glider under an arbor you are able to create a place of relaxation in your yard without resorting to the usual unattractive lawn furniture. It is often highly effective to add a swing or glider that is made of the same material as the arbor in order to create a consistent and uniform appearance.
Outdoor Room
Creating living space outside of your home is a great way to utilize your garden and allow for more enjoyment of your home. Several arbors can be set around a space to visually create the sense of an outdoor room. The size of the room depends on how many arbors you use and how far apart you place them. There's no need to have them touching or to create solid walls with them; simply having them placed at regular intervals around the space will create the visual effect of a room. Inside this room you can place patio furniture, a play set, or anything else that will help you to enjoy your outdoor space more.
There are many options for premade arbors available on the market but if you can't find one that fits your needs, they are just as easy to build. Kits are available as well as simple plans that allow you to choose your materials and build your arbors in exactly the space and dimensions that you desire. This makes it easy for you to customize your garden however you please.