Boat Covers: Protection From the Storm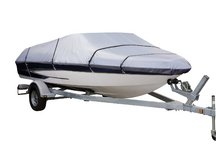 You've invested in a boat to enjoy as often as possible. Don't let it age quickly - get a boat cover! Every boat, from paddle boats to speed boats, benefits from a bit of protection. You may think that because your boat is spending so much time getting wet anyway, a little rain won't make a big difference. But it turns out that the elements do have an effect on the paint job, the body and everything about your boat. Boat covers protect the instruments, mechanical parts and the basic structure of your boat.
All Boats Benefit From Boat Covers
The good news is that boat covers come in a very wide variety of sizes, shapes and styles. From paddle boat covers to pontoon boat covers to speed boat covers, if you have a boat, you'll find a cover that was designed to keep your boat protected from the elements. They all come with systems that keep the boat cover from lifting off, including straps and buckles that tighten and hold things in place.
Pontoon Boat Covers
Made of polyester or marine canvas, pontoon boat covers keep out the rain, hail, snow and sun. In fact, the sun is one of the most significant factors in the slow deterioration of your boat. A heavy duty pontoon boat cover with a buckle and strap system will stay put in the wind and rain and keep your boat protected during all kinds of weather.
The Canvas Takes the Brunt
After just one season with a canvas boat cover, you'll realize why it's important to cover your boat when you're not using it. Marine canvas is incredibly durable and can take a lot of abuse. Any sun damage, such as bleaching and degradation of the material, will take some time to appear. The question is: would you rather your boat sustain that exposure? A canvas boat cover can protect your boat, and replacing a boat cover is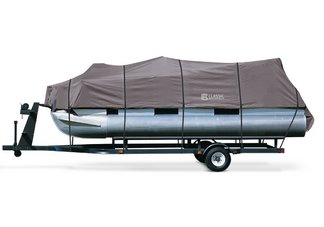 much less of a hassle than replacing your entire boat.
Anyone with a boat will save themselves headache and heartache by protecting it with a heavy duty boat cover. Take a look at the wide variety of options in the boating world, and you'll see that boat covers are a necessity for anyone with a boat who wants to keep it in excellent condition, year after year.