Choosing the Right Dining Room Set for Your Home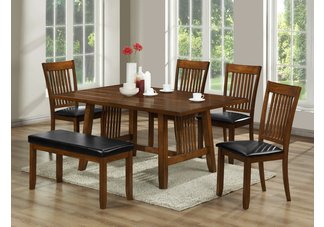 Dark wood stains, such as espresso, are both sleek and seasonally appealing, giving your dining room dark lines to set off any design aesthetic or accent colors. But there are also the classic lighter wood stains and finishes, like cherry or walnut, that are a bit warmer and have a more cottage chic appeal. Deciding what style of dining room set would suit your home should be a fun and exploratory process. Let's look at where you should start.
Size and Numbers
Dining room sets tend to formalize a dining area, whether you want a five-piece dining set or an eight-piece dining set. The question you should first ask yourself is what do you have space for? Are you hoping to entertain groups of six or more? Or do you see yourself having more intimate dinner parties for four? If you get a six-piece dining set with a bench that can easily be moved against one wall, will it overcrowd the room, or will it allow you just the right convertibility?
Brightness and Contrasts
Some people feel that dark woods are too old fashioned or solemn for their dining room. Others like dark woods for the clean lines and many options a simple, dark color can leave open. One way to offset a dark wood is by getting a dining room furniture set with chair cushions that contrast with the color of the wood. A white or off-white cushion looks fantastic and can be paired with any color accents that are already in your dining room.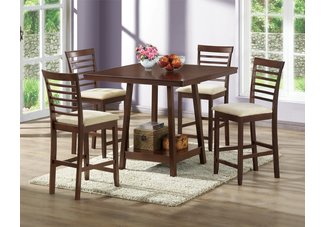 All the Details
There are lots of details that you're going to learn about before you finally choose the dining room set for your home. The options are seemingly endless. Rather than worrying about how to narrow it down, first browse our offerings and see if anything speaks to you. Look at chair back height, the style of the chair back slats, and think about options for seat cushion colors. When you see something you think would look great in your dining room, write down the style, color, and even draw yourself a picture. After you look at a few more, they'll all start to blend together, so keep the details in a place where you can revisit them.