Fire Pits for Fall & Winter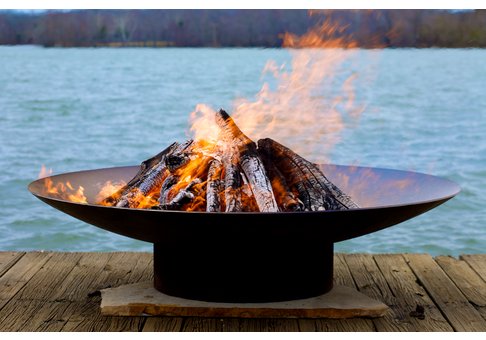 Outdoor Fire Pits for Fall and Winter
Bonfires or backyard fire pits have been the domain of summer and the months closest to summer. The warmer months are when we want to be outdoors, and the fire is great for those late spring or early fall evenings when things do cool off. These days, fire pits have been re-imagined as outdoor heating units for outdoor gatherings all year long. A backyard fire pit can be both a fun treat and a way to stay warm and enjoy fall or winter gatherings outdoors.
It Makes Perfect Sense
Even though we think of sitting outside into the evening as a warm weather activity, it also makes sense to sit by the fire on a cool evening. After all, you want to enjoy the heat of the fire, not feel stifled by it when the weather is warm. Roasting marshmallows is fun when it's cold out; making s'mores is exciting because you've got melting chocolate even though the air is cool. More modern and practical fire pits have been designed as outdoor heaters that can make outdoor gatherings enjoyable all year round.
Design Elements are Practical and Stylish
The modern designs of backyard fire pits are wonderful to look at and keep you warm, while keeping the fire contained. You don't actually have to dig a pit anymore - you can purchase a modern, simple, practical backyard fire pit and you've got an outdoor heater, which is fun to gather around in the fall and winter. Modern firepits are designed to help you stay safe, too. There are always risks with fire, but because a backyard fire pit is self-contained, there is almost no risk or danger involved, unless you use the firepit irresponsibly. Not all modern firepits are exactly the same. You can find models that are raised or sit low to the ground, and many have unique designs which allow the glow and heat of the fire to suffuse the area around in lovely ways.
With a backyard fire pit, you can have fun winter or fall gatherings in your backyard and nobody will be too cold to enjoy the fresh air and night sky. Fire is the original outdoor heater, and firepits simply make them safe and easy to control.