Designer Shower Curtains: A No-Hassle Way to Update Your Style
Interior design usually starts in the most public rooms of the house - the living room, dining room, guest bathroom, or the kitchen these days. You want to make a good impression on people visiting, but you don't necessarily need the same level of design throughout the house. At some point, you start to appreciate the good feeling you get when you go into those well-designed, balanced, and cared-for rooms.
So how can you make your bathroom look great in a couple of simple steps? Installing a designer shower curtain and making other minor changes will pull the whole room together. Designer shower curtains are extra long, giving the room length and elegance - not words you usually use to describe a bathroom. Once you've got the shower curtain in place, you can find simple bathroom accessory sets to match the theme you've chosen. You can also match the bath towels or get a beautiful set of contrasting color bath towels to really make things look carefully chosen.
Many designer shower curtains are simple and stylish. The more adventurous you're feeling, or the more confident you are in your design ideas, the more specific you can go with your shower curtain. Maybe you want something fun and bright to make you feel up-beat first thing in the morning. Or perhaps you like the idea of a dark color that you can contrast with something bright and fresh in the accents you choose. There are designer shower curtains that match any sense of style, including more classic prints and fun and funky prints.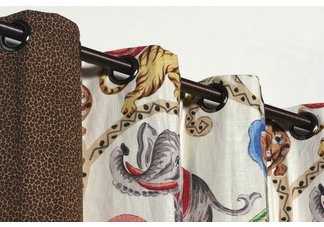 And of course, you can always go back to a standard, single color shower curtain that gives that sense of permanence and quality.
To take the interior design of your bathroom one step further, you can even order a custom shower curtain, cut to the length and width that you specify, and with the type of shower curtain rod in mind. Have fun with this little room. It's a nice way to explore a new color palette, and it's a great way to realize your design potential and growth. Bring your unique sense of style and design to your bathroom with a designer shower curtain.