The Beauty of Adirondack Chairs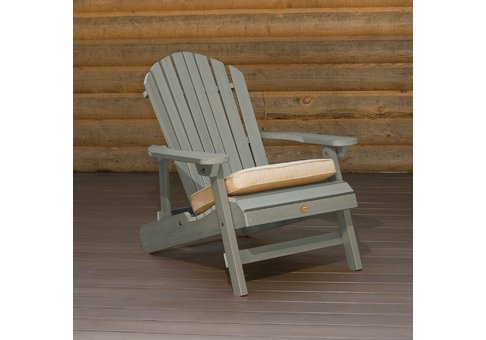 The space outside your house can be a wonderful extension of the home itself. Adirondack chairs are the original furniture for outdoor use. These very simple wooden chairs are also sometimes referred to by the name of a Canadian town known for crafting them, Muskoka. Though today's Adirondack chairs vary in size and exact design, the original was created out of 11 flat boards that were pieced together to make a very straight back and level seat bordered on both sides by large armrests. The first Adirondack chair was developed by Thomas Lee while he was on vacation in 1903. Visiting Westport, New York he was spending his time enjoying the fresh air and beautiful views of the Adirondack Mountains. He desired furniture that could be used outside and began designing chairs that he tested out on his family.
Finally the wooden "Westport plank chair" was developed. Once the design was approved by his family, Lee then brought it to a carpenter he knew from Westport. This man, Harry Bunnell, was experiencing a serious lack of income due to the winter months and felt that the design his friend had presented him may represent just the relief that he was looking for. Thinking that this chair would be the perfect thing to sell to the many wealthy families that visited Westport during the summer, Bunnell decided to make the chair his own. Without consulting Lee he received a patent for the design in 1905.
For the next 20 years Harry Bunnell created simple plank chairs that were made specifically out of hemlock. These chairs were either green or a dark brown and were individually signed for proof of "authenticity". The design has been updated considerably for both function and beauty. Instead of the very straight seat and back, contemporary Adirondack chairs are created with a contoured seat and a curved, more attractive back. The basic style and construction are also used to create a wide variety of other pieces of furniture such as outdoor-friendly gliders. For improved durability and lower cost, these chairs are often made of plastic or engineered lumber.
Because of the comfortable design, including armrests with wide ends, Adirondack chairs are a popular patio chair.